Graduate VŠB-TUO is trying to become the first Czech who will travel the world by hitchhiking.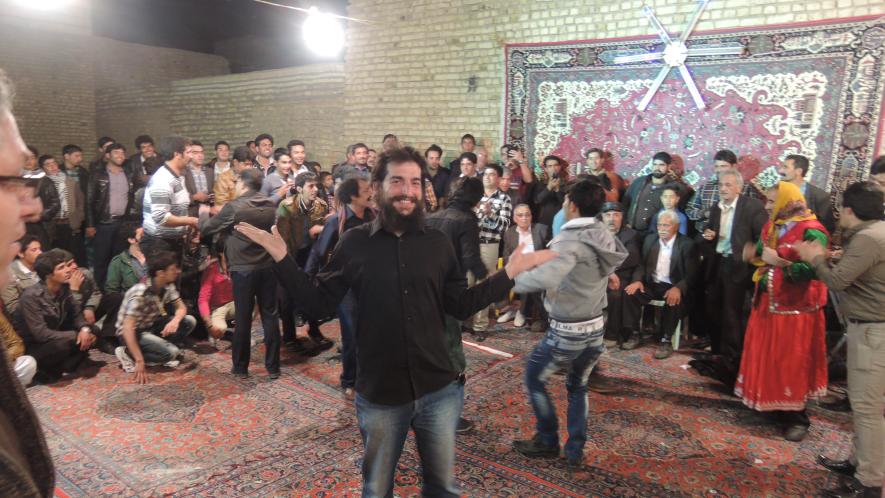 More than 100 countries, 1800 days on the way, 150 000 kilometers. This is the goal of IT expert, sportsman, film-maker, polyglot and adventurer Pavel Klega, who has decided to realize his dream, left his job and started a long journey around the world. During his travelling he is going to spend no money for transport. 29 years old Pavel is from Hlučín near Ostrava and graduated at the Faculty of Electronics and Informatics, VŠB-TUO.
He started his journey at the end of August 2014 and right now he has already travelled 19 countries. Through Albania, Kosovo, Turkey, Armenia and Iran he has reached now by hitchhiking Jordan. His further steps are going to the African continent, to South African Republic, trough Egypt, Sudan, Ethiopia, Kenia, Tanzania, Mozambique and then back to the north on the west coast through Namibia, Angola, Congo, Cameroon, Nigeria, Benin, Burkina Faso, Mali, Mauretania, and Morocco from where he is going to hitchhike a ship to take him over the Atlantic ocean to America. Asian continent is going to be at the end of his journey.
The main aim of his journey is to show people that it is possible to travel with a little money and inspire them to start living their dreams. At the university Pavel has been at one-year Erasmus program in England and Leonardo da Vinci internship in Barcelona. Thanks to this he is already experienced in travelling. Also hitchhiking isn't for Pavel anything new. He has sooner already travelled the Balkan Peninsula, he travelled to Istanbul, Minsk or Israel. He goes by cars, boats, horse-drawn or camel-drawn carriages, simply by anything which is able to move him further. If there is no vehicle to take him, he is prepared to go on foot. Pavel enjoys meeting new people and cultures, trying new cuisines and learning new languages on his way. He claims that he has got very good experience with people till now and that the world is a safe place, full of love, friendly people and awesome nature.
All enjoyments from his trip are documented by pictures and videos at the official web page www.kolemsvetastopem.cz or at his facebook profile "Pavel Klega Adventurer".
How and when did you get the idea to travel around the world?
My best polish friend in Britain has inspired me at my study program in year 2009. Since then I have been thinking about that idea and I have realized it in August 2014.
Could you describe the biggest experience on your journey?
The biggest experiences are always connected to adventure. One of the biggest experiences I have gone through was when I had to leave Nagorno-Karabakh without my visa because my Iran visa was almost expired.  I had to cross the border between Armenia and Nagorno-Karabakh illegally at night. I have found a bridge over the river which was a national border in a village near customhouse.
What are the obstacles which can happen to a traveler who travels the same way as you do?
There are many problems which can happen. When they all happen at the same time it is a real problem. For example when there is no car for a long time, you are in the middle of nowhere, you ran out of water, and food, the temperature drops below -20°C in the mountains or  is above 45°C in the desert. These situations are life dangerous. 
Do you think that your story is going to be an inspiration for other people who will make a similar journey?
I believe that I will inspire many people to make a similar adventures travelling or to realize any other dreams because this is what life is about.
Were you personally inspired by any concrete traveler?
Yes, of course, I have my examples to follow. One of them is a Czech traveler Dan Přibáň, French hitchhiker Jeremy Marie who has also traveler the world by hitchhiking or Finnish adventures Riku Rantala and Tunna Milonoff, who have filmed a travel documentary TV serial Madventures.
How do you manage to survive the separation with your family and friends?I am used to the separation from the time I was in Britain and Spain. Travelling around the world for 5 years is something different. There are smaller and bigger crises which I have to deal with. It always makes me tougher when I get over it.
How did you prepare yourself for such a challenging journey?
I have been preparing myself for about 1 year. First of all I had to know all the knowledge to plan the way. Secondly psychically and materially. In the end only practically, how to abandon the job, get vaccinated, create the web page, pack my things and the most difficult - get on my way.  
Author: Kristýna Pospíšilová (intern at Public Relations Department)