Report expired on 31. 10. 2020!
The 61st International Engineering Fair (IEF) is held at the Brno Exhibition Centre. It started yesterday, Monday 7 October, and will last until Friday 11 October. Visitors can see expositions from 1600 exhibitors who will introduce new technologies. And VŠB – Technical University of Ostrava cannot miss it.
In pavilion Z, you will find the stand of our engineers. They will present, for example, a mobile robot RoverOva, a smart helmet, a 3D scooter, a historic motorcycle from the University Restoration Workshop, and many other recent scientific research projects. The main theme of the International Engineering Fair is industrial automation, presentation of control, measuring, automation and control technology covering all areas of the fair.
On Monday, at the opening ceremony of the IEF, six exhibits out of twenty-five registered won the gold medal. The awarded ones included the StudentCar project from the Faculty of Materials Science and Technology at VŠB-TUO. The project was awarded the medal in the category for innovation in transport and logistics. The StudentCar SCX has an electric wheel drive, which means that the car does not need a gearbox and uses the heat from the cooling for its heating.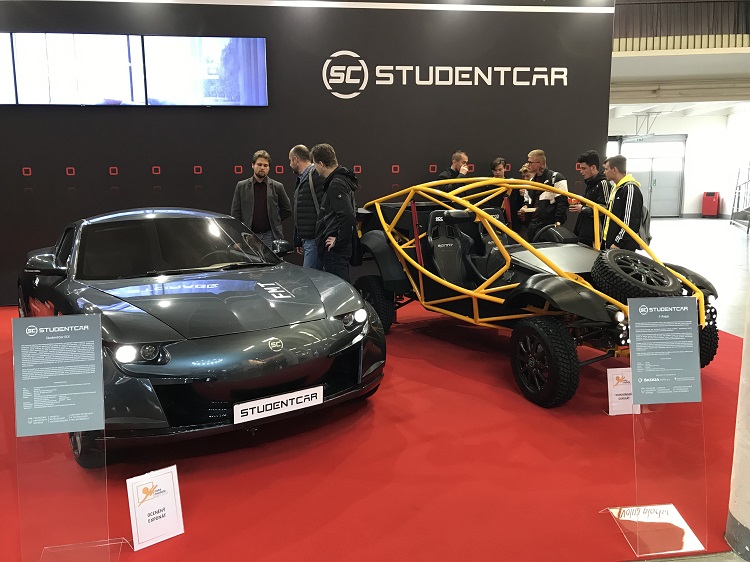 The StudentCar team consists of students, engineers, developers and experts from several companies. SCX was the first sports electric car built in the Czech Republic. Its performance is comparable with the world top. The electric vehicle accelerates from zero to one hundred kilometres an hour in five seconds. Depending on the driving mode, it has a range of up to 180 kilometres. On-board data is shown on two displays and a removable tablet. The car is also environmentally friendly.