Communication of science was the main topic of two events this week for the academic community and other staff of VSB-TUO.
In particular, PhD students were introduced to the ways and forms of communication in the PhD Academy within a two-day course, during which they also practiced how to speak into a microphone or in front of a TV camera. Participants learnt about how to engage different audiences and increase the impact of their scientific work in two workshops led by Sam Illingworth, a world-leading expert in science communication from Edinburgh Napier University.
Why is science communication important, what form can it take and many other questions were answered by lecturer Tereza Mašínová, who has been involved in several popularisation projects, such as Science Café, and in 2017 she won the national round of the stand-up competition for scientists FameLab.
"Science is all around us. Even though we may not be aware of it in our daily lives, we encounter it at every turn. No one is an expert at everything, so we have to rely on the opinions and knowledge of experts who should be able to effectively communicate their findings to the public, politicians or company representatives. Such scientists, or those who will be able to effectively advise researchers "how to do it" and help them explain complex topics, will not be lost in the coming years," said Mašínová.
Students tried standing in front of the camera and microphone
Participants of the course tried out how a meeting with a journalist takes place in an improvised TV and radio studio with Zuzana Glacová, a former reporter at Czech Television and Prima FTV news, who is now involved in media training.
"As a journalist, I often met with scientists and saw how difficult it sometimes was to explain research in a way that was understandable to the general public. We worked on this during our course and it was great for me to see the participants' interest, their willingness to learn new things and to think about how to improve their presentation skills. If it helps them to 'sell' their research, that will be a beautiful outcome for me," said Glacová.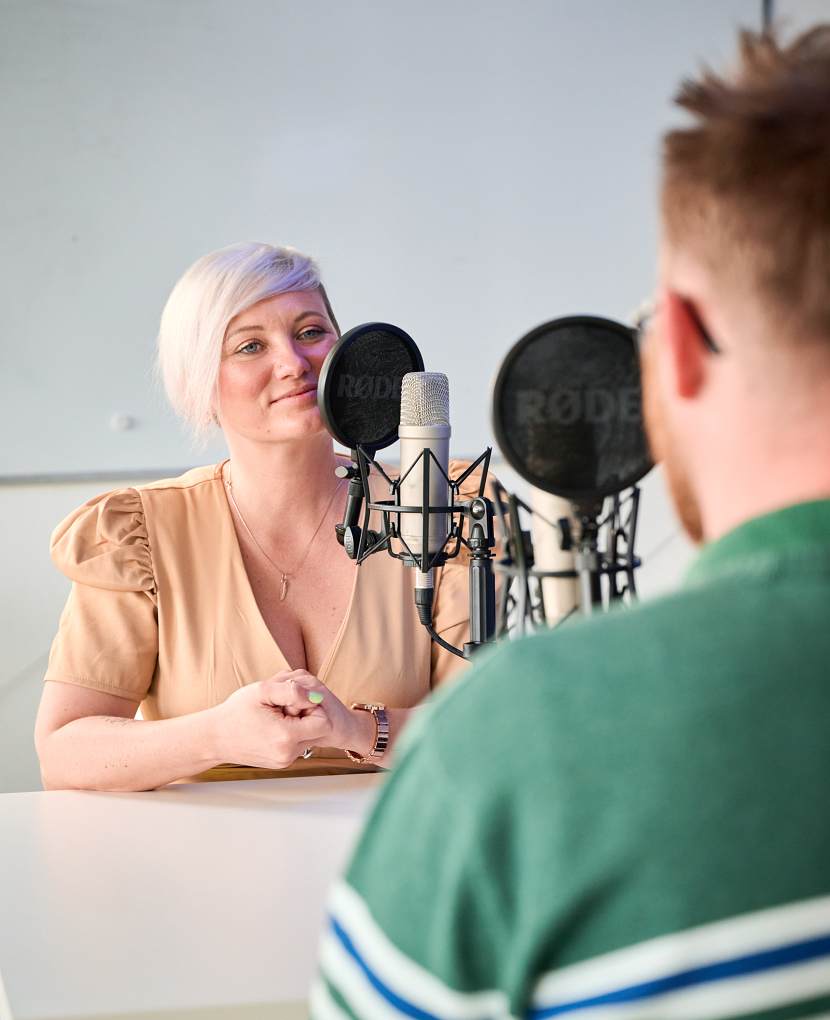 Despite the initial uncertainty, the doctoral students appreciated the opportunity to try out the presentation in practice. "It was very beneficial for me to try it out for real, I can use a lot of information in the future. I think that science communication should be part of every output that we scientists publish. It is good to make research visible, to present the projects we are involved in and to show that we have good results," said Martin Dratnal, who is studying for his PhD in Cybernetics at the Faculty of Electrical Engineering and Computer Science.
An expert from Edinburgh Napier University shared his know-how
Communication of science was also the main topic of two workshops given by Sam Illingworth, an expert on this subject from Edinburgh Napier University. He visited the University on the basis of cooperation confirmed by a Memorandum of Understanding between the two universities, within the project Strategic Development of Science and Research at VSB-TUO II, reg. no. CZ.02.2.69/0.0/0.0./18_054/0014694. Edinburgh Napier University is also a partner of VSB – Technical University of Ostrava within U!REKA, the Urban Research and Education Knowledge Alliance.
A scientist, populariser of science, and poet, Illingworth has prepared workshops not only for academics and researchers, but also for university staff who are involved in developing international cooperation and research and development, and in promoting science and research.
"The aim of the first workshop Effective Science Communication was to share my know-how in science communication and to provide practical information on how to communicate effectively and develop a message that is understandable, engaging and effective for different audiences," said Illingworth, who stressed the importance of presenting science in a simple way, preferably through stories.
The second workshop Making an Impact with Your Research focused on ways in which scientists can increase the impact of their work. "After attending this workshop, participants had a better idea of how to identify key audiences to explain their research, why they want to reach them, and how they can work together to create a more meaningful impact" he added.
"Sam is an extremely inspiring scientist, speaker and poet. In other words, a man of many talents. He talks about science and how to communicate it effectively in a clear, engaging way, and illustrates everything with clear examples from his own experience. I highly recommend his workshops, which he regularly offers as part of the PhD Academy," said Alena Kašpárková, a participant who focuses on academic writing as part of the PhD Academy.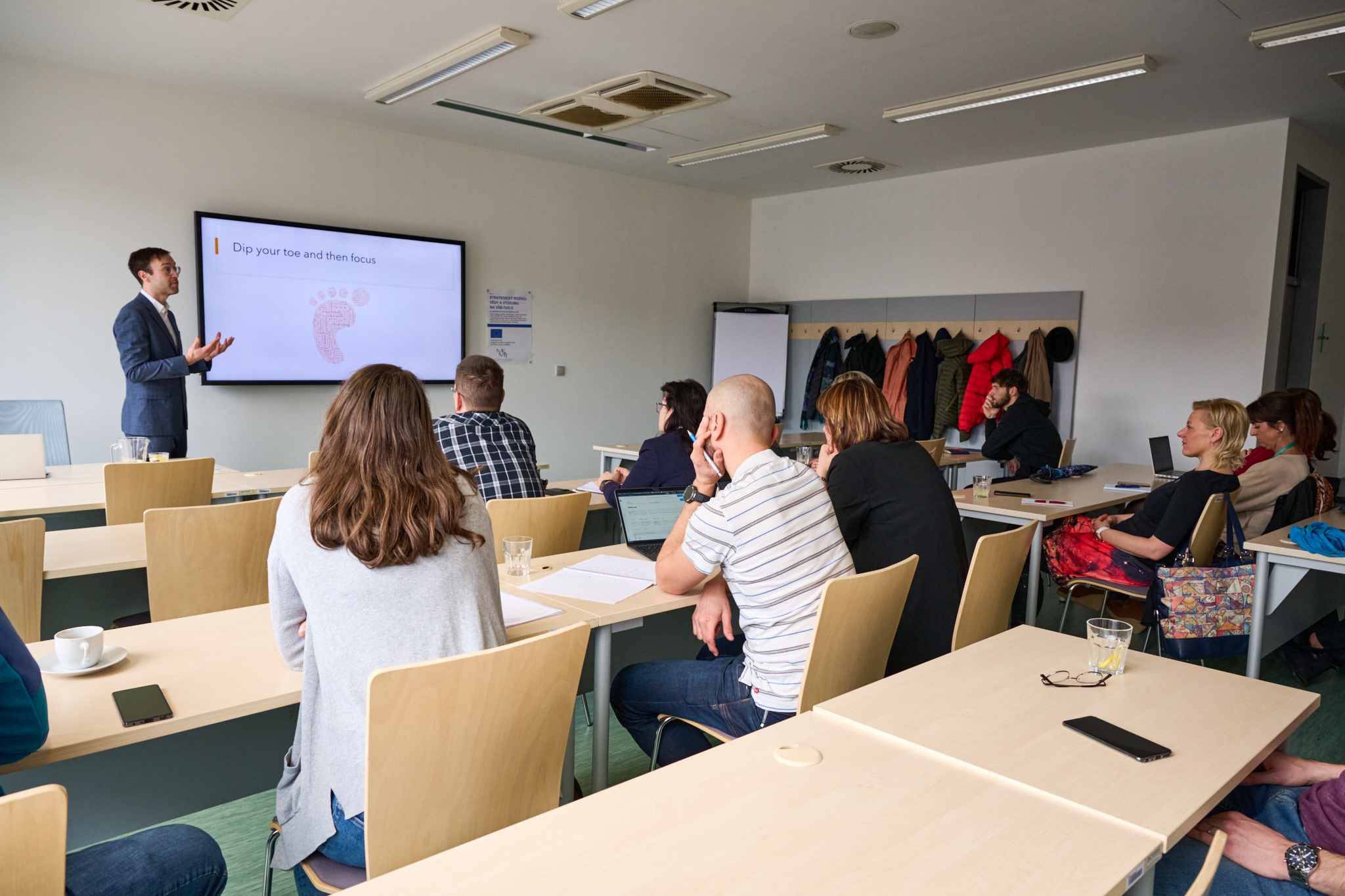 Discussion about further cooperation
In addition to workshop on science communication, Illingworth also met with the Management of the VSB-TUO, Faculties and research centres. "We had some very fruitful discussions and I am confident that we can take a number of steps to further strengthen the collaboration between our two institutions, for example, through the hosting of a research symposium to exchange knowledge and lay the ground for the joint application of future funding opportunities" added Illingworth, who also praised the PhD Academy's support system for PhD students.
Text: Martina Šaradínová, PR specialist for R&D
Photo: Petr Havlíček