DVOŘKA. You may remember this nickname from the Ostrava hockey derby because Michal Dvořák, a graduate of the Faculty of Safety Engineering, had a large fan base there.
In addition to representing VSB-TUO at the biggest event of the winter semester, he was also the captain of the University hockey team BO Ostrava, participates in the organisation of the student Majáles and competed in TFA (Toughest Firefighter Alive). We talked about how he manages everything in our interview.
My first question is straightforward. How do you manage everything?
Good question. However, it seems normal to me. Even as a kid, I had a schedule to stick to because I had many activities. And it is the same now.
How did you get into hockey in the first place?
My mom introduced me to hockey. I have an older brother who started before I did, and because I was bored and naughty on the bench, my mom put skates on me too. And hockey gripped me.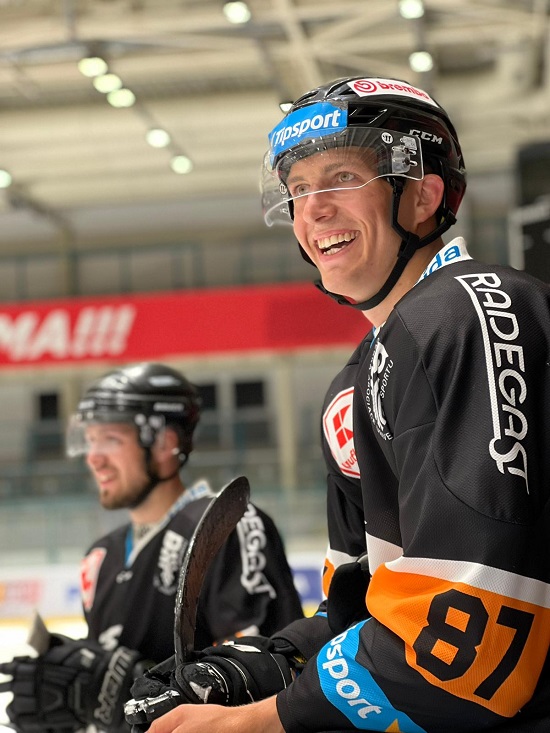 Yes, you represented your alma mater in the Ostrava Hockey Derby, and you became the captain of the BO Ostrava team, which is a joint team of VSB-TUO and the University of Ostrava.
I became the captain of the joint university team after four years. I was one of the older players with experience. I think we are a great bunch. We are friends who like to play hockey together, regardless of who is from which university. We are a good team, even though we did not have a great season.
How do you remember the Ostrava Hockey Derby 2022? You had a big fan base there. The FBI students put your initials on their chests.
These were the guys from the adaptation course I helped with at our faculty. I challenged them to write DVOŘKA on their chests in the manner of the NHL. They agreed – for a beer. I did not expect them to stick my initials on, and I was pleased, even though it probably hurt them to rip the tape off.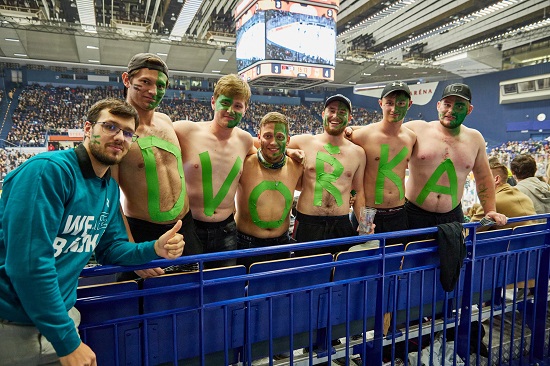 How does it feel to sell out Ostravar Arena? Do you feel the atmosphere in the stands?
Absolutely, yes, we do. It is great to see the two sides, blue and green. It is good to see how students from both universities can experience it. There are 8,500 people out there cheering on their university and supporting their teammates on the ice in their fight for the Cup.
Besides hockey, you also represented VSB-TUO in fire sports. That is more physically demanding, isn't it?
I no longer practice fire sports, specifically TFA competition. However, both TFA and fire sports are demanding disciplines that have their pros and cons. You have to be strong. The body has to work and has to persevere. Hockey is more dynamic and faster. You play, you go on the bench, and so on and so forth.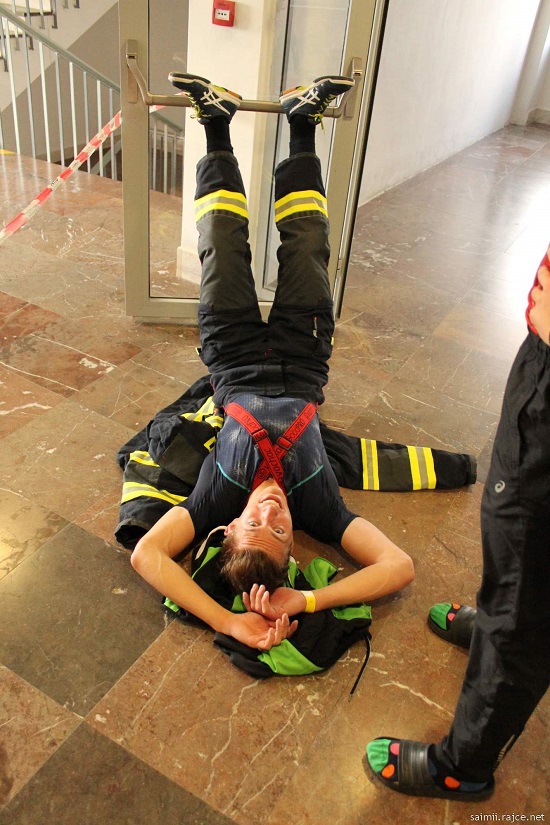 It is known that you were born in the south of Bohemia. How did you come to Ostrava?
I graduated from a secondary school with a fire science major, where we had an excellent fire prevention teacher. He recommended the Faculty of Safety Engineering at VSB-TUO to us. I knew I wanted to play hockey, but I also knew I needed a kind of creep-hole in the form of education. I applied to only one institution: VSB-TUO. I told myself that it would either work out or I would go to work. And it worked out.
Did anyone discourage you from studying in Ostrava?
I cannot say that I was discouraged. Of course, the people around me told me that Ostrava was far away, but I am used to travelling. I changed clubs in hockey. I knew that Ostrava was not a black city. Life here is great, and I had contacts from hockey. I came here before my studies. Then I started to get to know the place and joined clubs. It was good. When I was here once for a game, and we drove past the VSB-TUO campus, I said to myself that it is a nice university and that I would like to study here. And it came true. The dorms were wow for me. They are attractive and have been reconstructed. There are two clubs, a post office, and a shop. Hlavní třída (the main street in Poruba) is great; the ice rink was close by. It is an excellent location with everything within walking distance. I like it here.
Was it challenging for you to study safety?
It was challenging. The secondary school I went to was more practice-oriented. Here I came to a technical school where there was a lot of math, physics, chemistry and various combinations of those subjects. That was a shock to me. The first two years were more challenging; my fellow students who had gone to grammar school had a considerable advantage. Then it blended and changed, and we focused more on practical subjects. We really enjoyed the follow-up master's studies.
Did you have time for student life?
I did not purposely seek out parties in Vrtule. Being a sportsman, I had to get up early the next morning and go for training instead of being able to roll around all day. It does not work that way.
What do you want to do after your studies?
I am considering PhD studies, looking for a doctoral thesis topic and supervisor. I would also like to pursue hockey. Not only is it fun, but it is also a duty for me. It gives me moral values, and I spend time with my friends. If I pursue something in the field, I would like to do prevention, designing buildings, and documentation. I am attracted to the private sector and my own business.
Did the University meet your expectations?
That is an excellent question. At first, I was in a 3/5 hockey, 2/5 school mode. I did not care at all. I just wanted to play hockey. But then I decided to bridge the gap to the other side, and I had such high expectations from the University that I wanted to get better at prevention and protection. Yes, math and physics were more challenging, but when you learn those basics, university studies give you a lot.